Product

Back
Product Name
:
Automatic Fruit And Vegetable Washer
Product Code
:
SXQ8-ZA
Weight
:
6.5kg
Availability
:
Yes
Quantity
:


Product description:
EASTECH Fruits and Vegetables Washer is high-tech kitchen appliance. It set free of hand which could clean different kinds of fruits, vegetables, rice, meats, and seafood.
By modern appearance design, strong disinfection function, it becomes a necessary home appliances. Applying vortex spraying current design which ensure the surface of fruits is fully cover by ozone water and remove the residue pesticide. No need to add any disinfectant and without second pollution.
Product Functions:
Sterilization, Disinfection, Pesticide Degradation

Applying Ozone, sterilization, disinfection, pesticide degradation four function in one. No risidue, assured safety.

Vortex Spraying Current

Vortex spraying current allow washing deeply, assure the vegetable and fruit wouldn't be damaged. The washing would not make vegetable mashed, the washing is much more professional.

Elegance & Practically

Small, smart and compact, visible design, easily removable washing basket, avoiding the second pollution

Economic

Washing without detegent and disinfectant, saving water and electricity greatly
N.W. / G.W. : 6.5Kg/ 7.7Kg
RATED VOLTAGE FREQUENCY : 220V~50Hz
RATED POWER INPUT : 100W
RATED WASHING CAPACITY : 8L
WATER CAPACITY : 4L
UNIT SIZE : 420x340x320mm
GIFT BOX SIZE : 427x369x365mm
爱思特
果蔬解毒清洗机是一种技术领先的厨房电器用品。 它解除了手工清洗果蔬的繁重体力劳动,能够清洗各种蔬菜,水果以及海产品。
本产品拥有时尚的外观,强大的解毒洗调功能,是现代家庭必备家电。专利的涡流喷淋式水流设计, 确保水流与果蔬表面充分接触,臭氧与果蔬表面的残留化学物质全面反应,达到既能清洗干净又不损坏果蔬的效果,同时该产品省水省电,操作简便,不需任何添加 剂,避免二次污染;使用成本低,是一款具有使用价值的新型环保的绿色家电。

功能介绍:


解毒杀菌。 降解农药


特设臭氧降解功能,解毒杀菌,降解农药,分解激素全过程自动完成,降解后臭氧自行分解无残留,安全放心。



涡流式喷水流


涡流式喷水流,既能深层清洗顽固污迹,又能确保果蔬不受过重机械伤害,洗菜不会烂,清洗更专业。



专利产品,美观实用


体积小巧,不占地方;透明视察,清洗过程可视化;移动洗条筐方便取出。



经济实惠


洗条无需洗调剂,消毒剂,超低用水量,降低用电量,降低使用成本。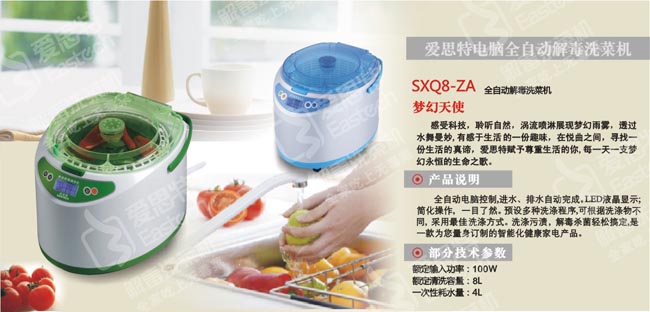 SXQ8-ZA

● 执行标准:GB4706.1-2005 GB4706.45-1999
SXQ8-ZA
-Automatic Fruit And Vegetable Washer